October 27 Boston, MA
New England Mobilization to End the War
Bring All The Troops Home, Now!
---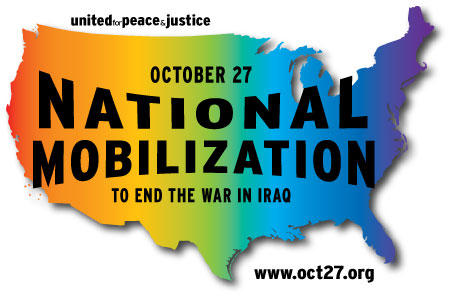 ---
New England Mobilization to End the War
Bring All The Troops Home, Now!
The vast majority of the people in every corner of the country want this war to end, but Washington has failed to take decisive action. With each passing month, nearly 4000 military people and tens of thousands Iraqis are killed, some 12 billion of our tax dollars are spent, and the death and destruction continue. Our communities -- from New Orleans to Minneapolis – are neglected and suffer the consequences. From Vermont to California, from Florida to Wisconsin, the people have spoken: We want this war to end, and we want it to end now!
On Saturday, October 27th, people from all walks of life will gather in 10 sites around the country for massive regional demonstrations. This nationally coordinated day of outcry against the war in Iraq was initiated by United for Peace and Justice, the nation's largest grassroots antiwar coalition. And now many groups and organizations across the country are working on the October 27th mobilization.
You are invited to join this effort!
What we do now will help shape our future.
We the People must end this war!
| | |
| --- | --- |
| | For Information on buses click ==> here |
Download a Flyer

Boston Specific

National
(With Boston Highlighted)
For more information:
United For Peace & Justice --
www.unitedforpeace.org